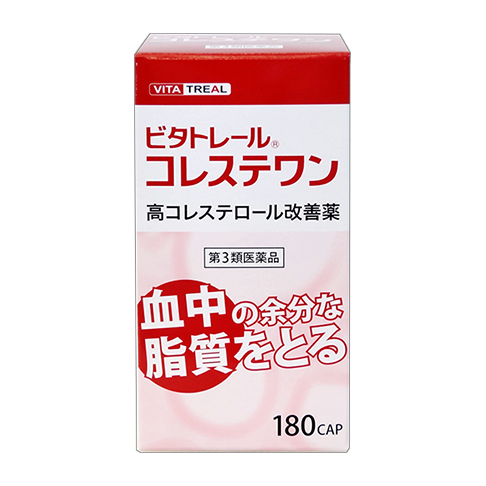 Risks
Type-3 OCT Drugs

Risks are relatively low. It does not interfere with everyday life, but includes components that may cause modulation and malfunction of the body.
Features

Vitatreal® Cholest One improves serum high cholesterol and is a medicine that relieves peripheral blood flow disorder (chills・numbness of limbs) accompanying serum high cholesterol.
Pantethine accelerates cholesterol metabolism in the liver, reduces excessive cholesterol in the blood and suppresses deposition on the blood vessel wall. D-α-tocopherol acetate suppresses the production of peroxidic substances, soybean oil unsaponifiables suppress the absorption of cholesterol from the small intestine.
"Cholest One" is effective because of these three ingredients.
Effect

Improvement of serum high cholesterol, relaxation of peripheral blood flow disorder (numbness and coldness of hands and feet) due to serum high cholesterol
Nutrients

Amount per day (6 capsules)
Pantethine (aqueous solution 80% pantethine) 375 mg, unsaponified soybean oil 600 mg, d-α tocopherol acetate (natural vitamin E) 100 mg
Additives : polysorbate 80, safflower oil, capsules with gelatin, concentrated glycerin, D-sorbitol, Sunset Yellow FCF, titanium oxide
Usage and Dosage

Please take the following amount with water or lukewarm water.
  Adults (15 years +) : 2 capsules each, 3 times a day
Under 15 years : Do not take.


< Notice related to usage and dosage >




(1) Please adhere strictly to the prescribed usage and dosage.

(2) Diet therapy is important for improving serum high cholesterol, so please keep to a diet even if you take this medicine.
Warning

1 . Store in a cool, dry place avoiding direct sunlight.
2 . Keep away from children.
3 . Remove the cotton from the container after opening.
4 . Do not eat the wrapped package in the container. Its purpose is to keep the contents dry.
5 . Keep closed tightly. Moisure will cause quality change.
6 . Do not handle melted tablets in your hand as discoloration may occur.
7 . Do not take if past the expiration date.
8 . Please record on the container the date in which you opened it.
9 . Please consume the product within 6 months after opening.
Manufacturer

Shinsei Pharmaceutical Industry Co., Ltd. (Made in Japan)
(This link destination is a Japanese page.)