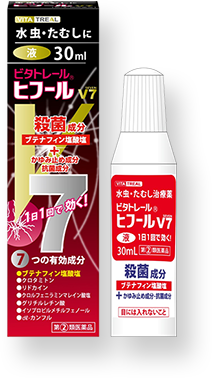 Risks
Designated
Type-2 OCT Drugs

Class II drugs with relatively high risk, and require special caution. Contains ingredients that may cause health hazards leading to hospitalization in a rare case.
Features

Athlete's foot drug. Athlete's foot is a skin disease caused by molds such as ringworm fungus parasitic on the stratum corneum of the skin and it is often accompanied by itching and pain. V 7 liquid contains seven active ingredients. By using it once a day, it improves the unpleasant symptoms of itchiness and the pain of athlete's foot. In addition, one tube is as large as 30 ml and it can be used long for persistent athlete's foot treatment. V7 liquid is recommended for dry athlete's foot.
Effect

Athlete's foot, jock itch
Nutrients

Per 100 ml
Butenafine hydrochloride 1.0 g, lidocaine 2.0 g, glycyrrhetinic acid 0.2 g, crotamiton 3.0 g, dl-camphor 1.0 g, isopropylmethylphenol 0.3 g, chlorpheniramine maleate 0.5 g
Additives : ethanol, 1, 3-butylene glycol, polyoxyethylene hardened castor oil, diisopropyl adipate, macrogol, phosphoric acid


< Notes related to ingredients >


Since it contains alcohol, it may sting when you apply it.
Usage and Dosage

Please apply the appropriate amount to the affected area once a day


< Notice related to usage and dosage >

(1) Please adhere strictly to the prescribed usage and dosage.

(2) Please do not use if the affected area and its surroundings are dirty.

(3) Keep out of your eyes. Should you get it into your eyes, immediately wash it with water or lukewarm water, and immediately seek an ophthalmologist.

(4) Do not touch the eyes or the mucosa with the hand that used this product.

(5) Children should use it under guidance and supervision of parents.

(6) External use only.
Warning

1 . Store in a cool, dry place avoiding direct sunlight.
2 . Keep away from children.
3 . Remove the cotton from the container after opening.
4 . Do not eat the wrapped package in the container. Its purpose is to keep the contents dry.
5 . Keep closed tightly. Moisure will cause quality change.
6 . Do not handle melted tablets in your hand as discoloration may occur.
7 . Do not take if past the expiration date.
8 . Please record on the container the date in which you opened it.
9 . Please consume the product within 6 months after opening.
Manufacturer

Bankyo Pharmaceutical Co., Ltd. (Made in Japan)
(This link destination is a Japanese page.)