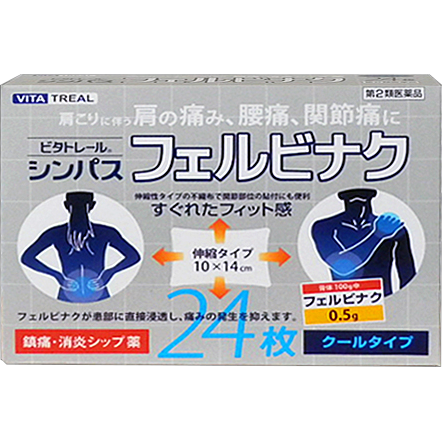 Risks
Type-2 OCT Drugs

Risks are relatively high. Rarely contains ingredients that may cause health hazards beyond hospitalization equivalents.
Features

=> It contains 70 mg of felbinac per piece

=> It is an analgesic / anti-inflammatory patch medicine that exerts excellent effects on pain such as shoulder, hip, joints.

=> Felbinac penetrates directly into the affected area, suppresses the occurrence of prostaglandin causing pain.

=> Because it is trying non-woven fabric rich in elasticity, it has a great fit.

=> Packet size : 10 cm × 14 cm
Effect

Shoulder pain accompanying shoulder stiffness, back pain, joint pain, muscle pain, tenosynovitis (hand and wrist · ankle pain and swelling) , elbow pain (tennis elbow etc.) , bruise, sprain
Nutrients

Per 100 g of plaster
Felbinac 0.5 g (suppress inflammation and soften pain)
Additives : Partially neutralized polyacrylic acid, polyacrylic acid Na, polyvinyl alcohol, CMC-Na, glycerin, D-sorbitol, carboxyvinyl polymer, tartaric acid, castor oil, edetate Na hydrate, titanium oxide, dihydroxyaluminum Aminoacetate, polysorbate 80, lenthol, kaolin, fragrance
Usage and Dosage

15 years + : Please remove the surface liner (film) and affix it to the affected area, twice a day
Under 15 years : Do not use.


< Notice related to usage and dosage >


1 . Please adhere to the prescribed usage and dosage.

2 . Please wipe off any oil or sweat from the body before affixation.

3 . Please be careful not to touch the mucous membranes of eyes, nasal cavity, lips etc with the hand that touched this product.

4 . Children should us it under guidance and supervision of parents.
Warning

1 . Store in a cool, dry place avoiding direct sunlight.
2 . Keep away from children.
3 . Remove the cotton from the container after opening.
4 . Do not eat the wrapped package in the container. Its purpose is to keep the contents dry.
5 . Keep closed tightly. Moisure will cause quality change.
6 . Do not handle melted tablets in your hand as discoloration may occur.
7 . Do not take if past the expiration date.
8 . Please record on the container the date in which you opened it.
9 . Please consume the product within 6 months after opening.
Manufacturer

Micro Chemical Co., Ltd. (Made in Japan)
(This link destination is a Japanese page.)