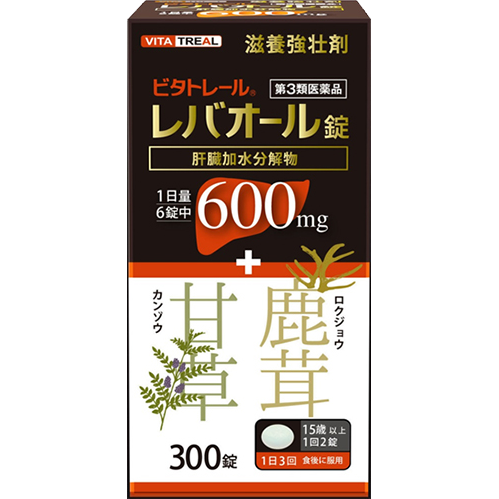 Risks
Type-3 OCT Drugs

Risks are relatively low. It does not interfere with everyday life, but includes components that may cause modulation and malfunction of the body.
Features

Vitatreal® Liverall is a liver hydrolyzate obtained by enzymatic decomposition of the liver of fresh pigs and it shows a tonic effect by arranging the end of deer antler (loquatot) and gastrointestinal work that have been prized as a powerful crude drug since long ago Licorice (licorice) dry extract, vitamins B2 and B6 essential for the metabolism of the whole body are added plus the nutritional supplementation in the case of nourishment tone, weak constitution, physical fatigue, gastrointestinal disorder, disease after illness etc. It is easy to take sugar-coated tablets.
Effect

=> Nourishment tonic
=> Weak constitution


=> Nutritional supplement in case of physical fatigue · during and after illness · gastrointestinal disorder · nutritional disorder · fever based illness · pregnancy lactation term, etc.
Nutrients

Adults taking 6 tablets per day (1 tablet 420 mg)
Liver hydrolysate 600 mg, glycyrrhiza dry extract (amount equivalent to original herbal medicine : 800 mg) 160 mg, powdered antler velvet 12 mg, riboflavin (vitamin B2) 12 mg, pyridoxine hydrochloride (vitamin B6) 6 mg
Additives : cellulose, hydroxypropyl cellulose, hydrogen phosphate Ca, anhydrous silicic acid, Mg stearate, hypromellose, gum arabic, gelatin, sucrose, macrogol, talc, Ca carbonate, titanium oxide, carmellose Na, carnauba wax.


< Notes related to ingredients >


Urine may become yellow while taking this drug (due to the riboflavin) .
Usage and Dosage

Please take the following amount.
Adults (15 years +) : 2 tablets each, 3 times a day
Under 15 years : Do not take


< Notice related to usage and dosage >


Please adhere to the usage and dosage.
Warning

1 . Store in a cool, dry place avoiding direct sunlight.
2 . Keep away from children.
3 . Remove the cotton from the container after opening.
4 . Do not eat the wrapped package in the container. Its purpose is to keep the contents dry.
5 . Keep closed tightly. Moisure will cause quality change.
6 . Do not handle melted tablets in your hand as discoloration may occur.
7 . Do not take if past the expiration date.
8 . Please record on the container the date in which you opened it.
9 . Please consume the product within 6 months after opening.
Manufacturer

Miyoshino Pharmaceutical Co., Ltd. (Made in Japan)
(This link destination is a Japanese page.)