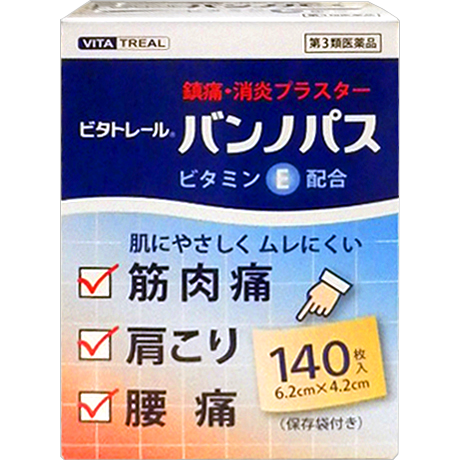 Risks
Type-3 OCT Drugs

Risks are relatively low. It does not interfere with everyday life, but includes components that may cause modulation and malfunction of the body.
Features

Analgesic / anti-inflammatory plaster Banopas is a thin and not conspicuous analgesic / anti-inflammatory plaster agent, because it has strong adhesive strength and is not easily peeled off. It is vitamin E blend, it is gentle to the skin and is hard to stuff. With a storage bag to put unused plaster in, 1 box contains 140 sheets. (1 piece size : 6.2 x 4.2 cm)
Effect

Back pain, bruises, sprains, shoulder stiffness, joint pain, muscle pain, muscle fatigue, frostbite, fracture pain
Nutrients

Per 100 g of Plaster
DL-camphor 1.243 g, methyl salicylate 6.215 g, peppermint oil 0.829 g, l-menthol 3.108 g, tocopherol acetate 0.345 g
Additives : polybutene, raw rubber, polyisobutylene, ester gum, terpene resin, precipitated calcium carbonate, titanium oxide, methyl acrylate・2-ethylhexyl acrylate copolymer resin, polyoxyethylene nonyl phenyl ether, natural rubber latex, perfume , Red No. 405, Yellow No. 205.
Usage and Dosage

Peel off the liner and affix it to the affected part, one to two times a day.


< Notice related to usage and dosage >




(1) Please adhere to the usage and dosage.

(2) Children should use it under guidance and supervision of parents.

(3) Wipe off any sweat or wet areas before use.

(4) People with weak skin should first affix a small 1 - 2 cm square piece on the inner arm for 1/2 day to confirm that no symptoms such as rash, redness, and itching do not occur before using this product.
Warning

1 . Store in a cool, dry place avoiding direct sunlight.
2 . Keep away from children.
3 . Remove the cotton from the container after opening.
4 . Do not eat the wrapped package in the container. Its purpose is to keep the contents dry.
5 . Keep closed tightly. Moisure will cause quality change.
6 . Do not handle melted tablets in your hand as discoloration may occur.
7 . Do not take if past the expiration date.
8 . Please record on the container the date in which you opened it.
9 . Please consume the product within 6 months after opening.
Manufacturer

Taikyo Chemical Industry Co., Ltd. (Made in Japan)
(This link destination is a Japanese page.)