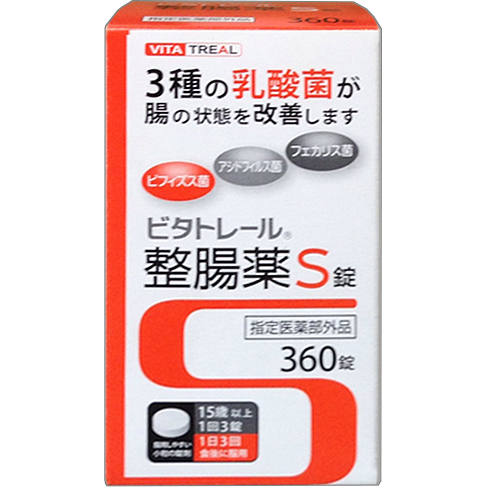 Features

It is healthy that starch, fat and protein in food are absorbed smoothly and become nutritious in the body. This product contains three kinds of lactic acid bacteria that regulate the intestinal environment, " Bifidobacterium ", " Lactobacillus acidophilus ", and "Fecalis bacteria", which reach the intestine alive and proliferate, helping the intestines. (Nonmedicinal product)

=> 100 trillion bacteria are said to exist in the intestine, and it is well-balanced when it is healthy, but when physical condition is poor, stress, irregular diet, or if elderly the physical strength declines, etc. Lactic acid bacteria may decrease and the intestinal environment may be disturbed. Therefore, it is important to replenish lactic acid bacteria.

=> This product prepares disorder of bowel movement, improves loose stools and constipation.
Effect

Intestinal adjustment (helps the bowels) , loose stools, constipation, abdominal distension
Nutrients

Per 9 tablets
Bifidobacterium 24 mg, lactocin (faecalis) 24 mg, lactomine (Acidophilus) 24 mg
Additives : reduced maltose syrup water, americium powder, corn starch, hydroxypropyl cellulose, magnesium stearate.
Usage and Dosage

Take the following dose before meals or between meals
  Adults (15 years +) : 3 tablets each, 3 times a day
  8 - 14 years : 2 tablets each, 3 times a day


< Caution >


  Children should take under guidance and supervision of parents.
Warning

1 . Store in a cool, dry place avoiding direct sunlight.
2 . Keep away from children.
3 . Remove the cotton from the container after opening.
4 . Do not eat the wrapped package in the container. Its purpose is to keep the contents dry.
5 . Keep closed tightly. Moisure will cause quality change.
6 . Do not handle melted tablets in your hand as discoloration may occur.
7 . Do not take if past the expiration date.
8 . Please record on the container the date in which you opened it.
9 . Please consume the product within 6 months after opening.
Manufacturer

Komeda Pharmaceutical Industry Co., Ltd. (Made in Japan)
(This link destination is a Japanese page.)