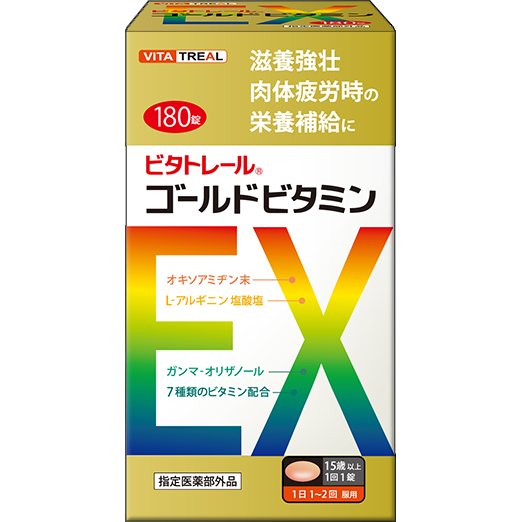 Features

Along with extreme weather in the natural world and intense activities of daily life, even though the body is healthy, a large change may appear. Even though it was thought to be a little tiredness, it becomes severe to the individual physically and mentally. This drug is a nourishing tonic containing 11 kinds of active ingredients such as L-arginine hydrochloride, gamma oryzanol, seven kinds of vitamins, and garlic extract ingredient (powder of oxoamidine) which is effective for recovery from fatigue. (Nonmedicinal product)
Effect

Nutritional supplementation in cases of nutritional strengthening, weak constitution, body fatigue · physical strength reduction after illness · loss of appetite · nutritional disorder · fever based illness · pregnancy lactation
Nutrients

Per 2 tablets (maximum daily dose)
L-arginine hydrochloride 50.0 mg, gamma-oryzanol 10.0 mg, oxoamidine powder 50.0 mg, thiamine nitrate (vitamin B1) 10.0 mg, riboflavin (vitamin B2) 4.0 mg, pyridoxine hydrochloride (vitamin B6) 10.0 mg, vitamin A (2000 vitamin A unit) 4.0 mg, sodium l-ascorbate (vitamin C) 112.6 mg, anhydrous caffeine 50.0 mg
Additives : cellulose, lactose hydrate, partially pregelatinized starch, hydroxypropyl cellulose, silicic anhydride, BHT, corn starch, carmellose calcium, magnesium stearate, hypromellose, sucrose, gelatin, gum arabic, calcium carbonate, Talc, titanium oxide, pullulan, macro gold 6000, yellow No. 5, carnauba wax.
Usage and Dosage

Take the following dose before meals or between meals
Adults (15 years +) : 1 - 2 tablets, once a day.
Warning

1 . Store in a cool, dry place avoiding direct sunlight.
2 . Keep away from children.
3 . Remove the cotton from the container after opening.
4 . Do not eat the wrapped package in the container. Its purpose is to keep the contents dry.
5 . Keep closed tightly. Moisure will cause quality change.
6 . Do not handle melted tablets in your hand as discoloration may occur.
7 . Do not take if past the expiration date.
8 . Please record on the container the date in which you opened it.
9 . Please consume the product within 6 months after opening.
Manufacturer

Komeda Pharmaceutical Industry Co., Ltd. (Made in Japan)
(This link destination is a Japanese page.)