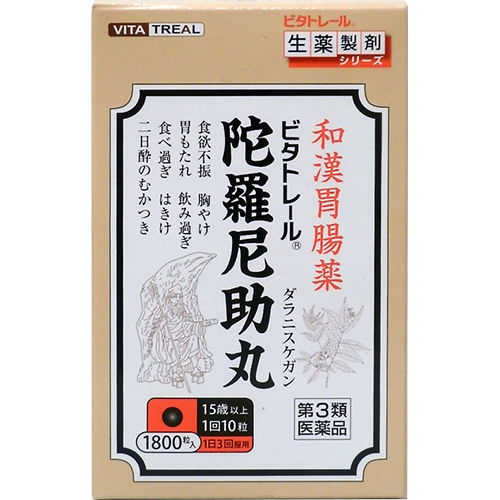 Risks
Type-3 OTC Drugs

Risks are relatively low. It does not interfere with everyday life, but includes components that may cause modulation and malfunction of the body.
Features

Ibuki Daranisukemaru which is easy-to-take granule form of Daranisuke, a traditional Japanese herbal medicine. This is a bitter stomachic made from famous folk medicine like plectoranthus herb (dried inside layer of plectoranthus), plectoranthus, plectoranthus herb whose bitter component really works.
Effect

Loss of appetite (decreased appetite), a feeling of stomach/abdominal distension, indigestion, dyspepsia, overeating, overdrinking, heartburn, dyspepsia, stomach oppression, breast obstruction, nausea (feeling sick, upset stomach, sickness from hangover/drinking, nausea, urge to vomit), vomiting
Composition

(Per 30 granule)
Phellodendron bark extract 500mg (equivalent to 3g of crude drugs), powdered picrasma wood 450mg, and powdered phellodendron bark 360mg
Additives: pregelatinized starch, sodium benzoate and medical carbon


Please note the color and taste are slightly different depending on the form of medicine, as natural herbs are used as ingredients in the medicine,
Usage and Dosage

Take the recommended dose as follows with water or tepid water three times a day after a meal.
Adults: 10 pills t.i.d.
Eleven to fifteen years: 6 pills t.i.d.
Eight to eleven years: 5 pills t.i.d.
Five to eight years: 3 pills t.i.d.
Three to five years: 2 pills t.i.d.
Children under 3 years of age: Do not use it.


< Instructions for the usage and dosage >




(1) Strictly follow the usage and dosage instructions.

(2) Children of every age should take the medicine under the supervision of an adult.

(3) For a young child over 3 years of age, pay special attention not to get the medicine stuck in his/her throat.
Cautions for use

When consultation is required.

1 . Consult a doctor, pharmacist or registered distributor before taking the medicine, if you are under a care of a doctor.

2 . If there is no improvement after taking the medicine for about ten days, stop using the medicine immediately and consult a doctor, pharmacist or registered distributor with the package insert
Cautions on handling and storage

(1) Store the medicine in a place with less moisture away from direct sunlight with bottle lid tightly closed.

(2) Put the medicine out of reach of children.

(3) Do not transfer the medicine into other container. (it might cause misuse or quality change of the medicine)

(4) Do not use the medicine after expiration date.



Manufacturer

Showa Chemical Industry Co., Ltd. (Made in Japan)
(This link destination is a Japanese page.)