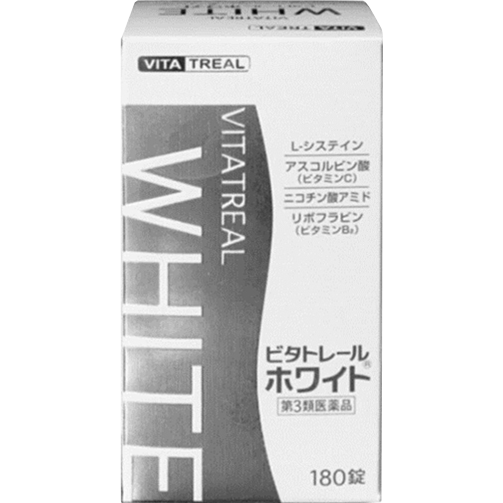 Risks
Type-3 OCT Drugs

Risks are relatively low. It does not interfere with everyday life, but includes components that may cause modulation and malfunction of the body.
Features

L-cysteine compound formulation" Vitatreal® White "is blended with L-cysteine · vitamin C, etc. Works well on spots and freckles.


=> L-cysteine and vitamin C cooperate to suppress the formation of melanin, which causes spots and freckles.

=> Vitamin C promotes lightening of black melanin.

=> Vitamin B2 and nicotinic acid amide promote metabolism of the skin, helping the function of L-cysteine and vitamin C to enhance the effect.
Effect

Relaxation of the following symptoms : spots,

freckles, pigmentation due to sunburn · rash


Prevention of bleeding in the following cases :

bleeding from gums, nasal bleeding




"However, if improvement is not seen even if it is used for about a month for these symptoms, consult a doctor, a pharmacist or a dentist."


Supplementation of vitamin C in the following cases :

physical fatigue, pregnancy · lactation period, physical strength decrease after disease, old age
Nutrients

Daily dose : (6 tablets)
L-cysteine 160 mg, ascorbic acid (vitamin C) 500 mg, nicotinic acid amide 60 mg, riboflavin (vitamin B2) 12 mg
Additives : cellulose, anhydrous silicic acid, hydroxypropyl cellulose, magnesium stearate, hydroxypropyl methyl cellulose, macrogol, sucrose, calcium hydrogen phosphate, talc, gum arabic, gelatin, titanium oxide and carnauba wax.


< Notes related to ingredients · quantity >


Urine may become yellow due to taking this drug. This is due to riboflavin (vitamin B2) contained in this drug, so do not worry.
Usage and Dosage

Please take the following amount after eating.
  Adults (15 years +) : 2 tablets each, 3 times a day
  7 - 14 years : 1 tablet each, 3 times a day
  Under 7 years : Do not take


< Notice related to usage and dosage >


(1) Children should take it under the guidance and supervision of parents.
(2) Please adhere to the usage and dosage.
Warning

1 . Store in a cool, dry place avoiding direct sunlight.
2 . Keep away from children.
3 . Remove the cotton from the container after opening.
4 . Do not eat the wrapped package in the container. Its purpose is to keep the contents dry.
5 . Keep closed tightly. Moisure will cause quality change.
6 . Do not handle melted tablets in your hand as discoloration may occur.
7 . Do not take if past the expiration date.
8 . Please record on the container the date in which you opened it.
9 . Please consume the product within 6 months after opening.
Manufacturer

Neiyaku Kagaku Co., Ltd. (Made in Japan)
(This link destination is a Japanese page.)