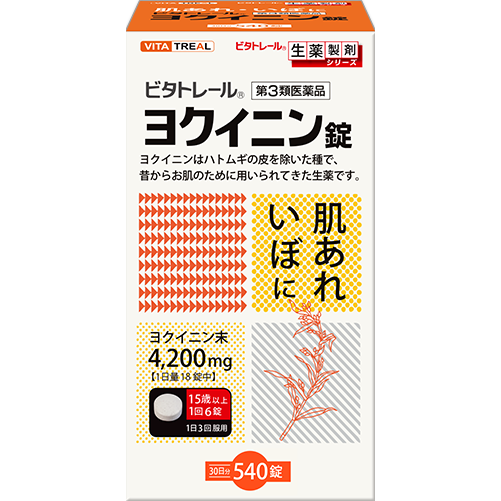 Risks
Type-3 OCT Drugs

Risks are relatively low. It does not interfere with everyday life, but includes components that may cause modulation and malfunction of the body.
Features

Vitatreal ® Yokuinin tablet is a herbal extract excluding coixseed skin, it is a crude drug that has been used for the skin since long ago. This product is a herbal medicine preparation (medicinal product) made into an easy to take tablet from powder of the threshed coixseed (Yokuinin) , and can be taken from children aged 5 years or over by adjusting the dosage amount per one time.
Nutrients

Per 1 daily dose for adults (18 tablets)
Powdered coixseed 4200 mg
Additives : silicon dioxide.
Usage and Dosage

Take the following amount with water or hot water before meals or between meals.
  Adults (15 years +) : 6 tablets each, 3 times a day.
11 - 14 years : 4 tablets each, 3 times a day.
  8 - 10 years : 3 tablets each, 3 times a day.
  5 - 7 years : 2 tablets each, 3 times a day.
  Under 5 years : Do not take.


< Notice related to usage and dosage >


  Children should take them under guidance and supervision of parents.
Warning

1 . Store in a cool, dry place avoiding direct sunlight.
2 . Keep away from children.
3 . Remove the cotton from the container after opening.
4 . Do not eat the wrapped package in the container. Its purpose is to keep the contents dry.
5 . Keep closed tightly. Moisure will cause quality change.
6 . Do not handle melted tablets in your hand as discoloration may occur.
7 . Do not take if past the expiration date.
8 . Please record on the container the date in which you opened it.
9 . Please consume the product within 6 months after opening.
Manufacturer

Honzo Pharmaceutical Co., Ltd. (Made in Japan)
(This link destination is a Japanese page.)