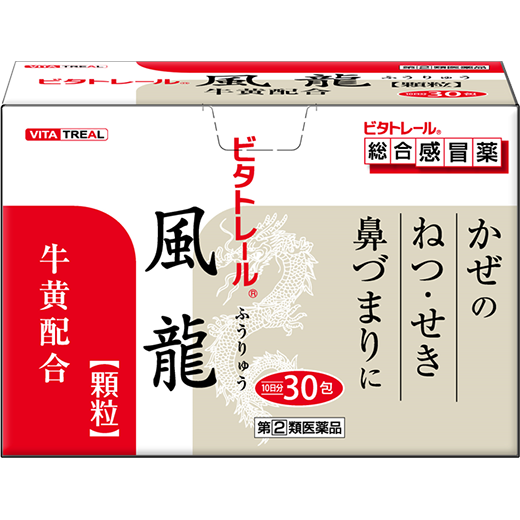 Risks
Designated
Type-2 OCT Drugs

Class II drugs with relatively high risk, and require special caution. Contains ingredients that may cause health hazards leading to hospitalization in a rare case.
Features

"Furyu" is a cold medicine that contains"goou" that is prized for antipyretic, anti-inflammatory, etc. as a noble medicine. In combination with Western medicine (ACE prescription, antihistamine, antitussive expectorant ingredient) with rapid action to the function of herbal medicines such as antipyretic, anti-inflammatory and detoxification of goou, exerts outstanding effect in various symptoms of cold.


@ The efficacy of crude drugs such as antipyretic and anti-inflammatory possessed by goou represents a potent action with Western medicine, and it works well for various symptoms of cold.

@ By blending the cinnamon powder and licorice extract ingredients, it has aromatic aroma and taste peculiar to herbal medicine, melts quickly and promptly improves the symptoms of the cold.
Effect

Relieve symptoms of colds (runny nose, stuffy nose, sneeze, sore throat, cough, mucus, chills, fever, headache, joint pain, muscle pain) .
Nutrients

Per daily dose (3 packets)
Oriental bezoar 3 mg, acetaminophen 720 mg, ethenzamide 300 mg, chlorpheniramine maleate 7.5 mg, cipeidin citrate 50 mg, caffeine anhydride 150 mg
Additives : powdered cinnamon, nickorium glycyrrhizinate (licorice extract component) , potato starch, carmellose calcium, hydroxypropyl cellulose.
Usage and Dosage

The following amount should be taken within 30 minutes after eating
Adults (15 years +) : 1 packet, 3 times a day
11 - 14 years : 2/3 packet, 3 times a day
  7 - 10 years : 1/2 packet, 3 times a day
  3 - 6 years : 1/3 packet, 3 times a day
  1 - 2 years : 1/4 packet, 3 times a day


< Notice related to usage and dosage >




(1) Children should take them under the guidance and supervision of parents.

(2) Infants and children under 2 years : Priority is given to doctor's treatment, and should only be taken when unavoidable.
Warning

1 . Store in a cool, dry place avoiding direct sunlight.
2 . Keep away from children.
3 . Remove the cotton from the container after opening.
4 . Do not eat the wrapped package in the container. Its purpose is to keep the contents dry.
5 . Keep closed tightly. Moisure will cause quality change.
6 . Do not handle melted tablets in your hand as discoloration may occur.
7 . Do not take if past the expiration date.
8 . Please record on the container the date in which you opened it.
9 . Please consume the product within 6 months after opening.
Manufacturer

Goseyakuho Co., Ltd. (Made in Japan)
(This link destination is a Japanese page.)