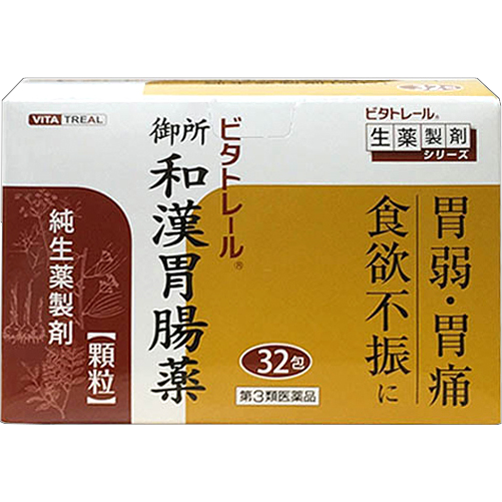 Risks
Type-3 OCT Drugs

Risks are relatively low. It does not interfere with everyday life, but includes components that may cause modulation and malfunction of the body.
Features

The Gose gastrointestinal medicine is based on prescription of" Antyūsan "famous as Chinese medicinal gastrointestinal prescription from the Song Dynasty of China and various investigations and improvements were made so as to meet the complicated contemporary society which can easily hurt the gastrointestinal tract It is a Japanese gastrointestinal medicine only by traditional Chinese medicine ingredients. Chronic stomach weakness, stomach pain, loss of appetite etc. and has an excellent effect.


=> Gastrointestinal medicine of Chinese medicine, each ingredient works cooperatively, and it shows excellent effect.

=> It is easy to drink gastrointestinal medicine with a flavor unique to Chinese medicine.

=> For people with weak stomach and intestines, it will make the gastrointestinal work, boost appetite, and improve digestion.

=> It is a suitable gastrointestinal medicine for constitutionally weak gastrointestinal people.
Effect

# Stomach weakness, heavy stomach, stomach discomfort
# Stomachache, excessive stomach acid, muscle weakness
# Anorexia (loss of appetite) , fullness of the stomach and abdomen
# Anorexia, eating too much, drinking too much, belching
# Nausea (anger, upset stomach, hangover, upset stomach) Vomiting
Nutrients

Daily dose : (3 packets)
Powdered cinnamon bark 795 mg, powdered fennel 450 mg, powdered glycyrrhiza 300 mg, powdered oyster shell 1350 mg, powdered ginger 150 mg, powdered atractylodes lancea rhizome 450 mg, powdered gentian 150 mg
Additives : 1-menthol, hydroxypropyl cellulose and carmellose calcium.
Usage and Dosage

15 years + : 1 packet, 3 times a day
11 - 14 years : 2/3 packet, 3 times a day
  8 - 10 years : 1/2 packet, 3 times a day
  5 - 7 years : 1/3 packet, 3 times a day
  3 - 4 years : 1/4 packet, 3 times a day


< Notice related to usage and dosage >




(1) Children should take them under guidance and supervision of parents.

(2) For infants under 1 year of age, priority is given to doctor's treatment and should be taken only in cases of the unavoidable.
Warning

1 . Store in a cool, dry place avoiding direct sunlight.
2 . Keep away from children.
3 . Remove the cotton from the container after opening.
4 . Do not eat the wrapped package in the container. Its purpose is to keep the contents dry.
5 . Keep closed tightly. Moisure will cause quality change.
6 . Do not handle melted tablets in your hand as discoloration may occur.
7 . Do not take if past the expiration date.
8 . Please record on the container the date in which you opened it.
9 . Please consume the product within 6 months after opening.
Manufacturer

Goseyakuho Co., Ltd. (Made in Japan)
(This link destination is a Japanese page.)